If you wish to try and run the experimental,
unsigned Java Applet compiled in one of the
earliest forms of Java a long time ago, and
viewable in the lower half of this page, you
will have to do this by means of something
like an early-style Java applet viewer that
doesn't required signed applets. This also,
of course, applies to any other Java applet
found in the 'classical/early-style' versions
of yoga4d and yoga6d that you can find links
to here and there. Consult frontpage of
yoga6d.org and the often-updated EcoNomy
page at yoga6d.org/economy.htm for fresh info.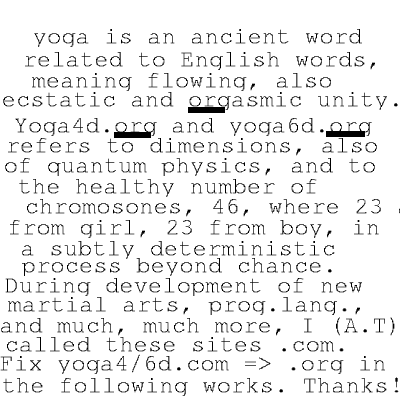 FOR ((STUDENT GIRLS)) STAMASH COURSES / TRAINING 
CFR (IR)REGULARLY UPDATED www.yoga6d.org/stamash.htm




MUSIC WHILE YOU WORK? free sample MP3 
ARRYTHMIC KOLN/JARRET-INSPIRED JAM-LIKE PIANO
IMPROVISATION CA 45 MINUTES (C) ARISTO TACOMA
(on some computers, right (or ctrl) click and
either select OPEN -- wait until the large 
file loads -- or select SAVE TARGET, in which
case you save the .MP3, then open in a player;
Alternatively: for those who has such SUPERLUCK,
AND WHO FEELS SUCH GREAT LUCK EVERY DAY that they
have the full Yoga4d Firth Lisa GJ2 platform
on a Y2000-compatible PC with the 3*4 display,
use the full GJ2 platform to convert to .WAV
then the RH8 aspect to put to a music CD,
and play on a separate player or with 1995
classic SoundBlaster on a CD Read/only classic
device -- the Rolls Royce method of computer music.




MANUAL ELEMENT #1: THE MTDOC
MANUAL ELEMENT #2: THE DEFINITIONS
(these applies to full installed Lisa operating approach for computers as at yoga6d.org/city)





READ yoga4d.org/yoga6d.org ON THESE LINES:
java.policy
.java.policy





www.yoga6d.org
THE RESPONSIBILITY FOR YOUR FILES IS WHOLLY YOUR OWN. 
USING THIS .JAR MEANS THAT YOU ACCEPT THAT,
AS WELL AS THE TOTAL COPYRIGHT OF THE AUTHOR
A.T. ALIAS S.H.B. REUSCH OF THIS APPLET.
-- Aristo




This applet is made by Aristo Tacoma as an invitation to bother to get
the full free Firth Lisa OAC on a real standard Y2000-style PC with 
GJ2 on its own net-independent personal computer. Some not-quite-updated
info but relevant menu options and hints and program links are at my main cover page
www.yoga4d.org and also at www.yoga6d.org 
Note that this bridge2.jar is copyright the author
and he asks for respect that this item so generously and freely provided
for use at Net Cafees and with private networking, also for somewhat
anonymous searching of nudity images by one of the GJ2 programs inside
the minilisa, is not copied, decompiled, or tampered with. This will
be legally followed up. Any questions, contact atiroal@yahoo.com.
-- Aristo



A TINY BUT COMPLETE SPRING BI PAINTING COURSE