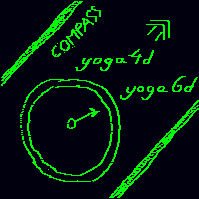 Click on image (or here) to goto pricelist
Welcome to neopopperian science
Norwegian -- Norsk KREA seminarer S Henning Braten Reusch
The key note opening lecture in the Norwegian government seminar
(April '96) which is here alluded to raised themes also
discussed further in this link: caa-stud.txt
On the infinite
English KREA seminarer S Henning Reusch (also called Stein von Reusch)
This author acknowledges a number of conversations
with physicist David Bohm (the late), in London,
Hampshire (UK) and Oslo for valuable impulses.
Roughly after the above seminar in 1996, but with
roots going to the first meeting with Bohm (1986)
and before then, a decade long project
on developing an implicate-like programming language
took place, with a variety of philosophical and artistic
questions opening up, blended with a tantric focus
which gave it a nondry sensuality throughout.
After much experimentation, this became a hybrid
of Forth and classic Lisp (with compiler written by this author
from scratch, with DJGPP and Shawn Hargreaves' Allegro)
with Freedos (an early form, modified and vastly expanded)
-- yet far removed from Forth and even further from Lisp,
in a new "warp-friendly" programming language concept
called LISA, or, more fully, Yoga4d Firth234 LISA
for art eros games (also the new GJ editions)
etc. LISA sees most forms of Bohm's
implicate order theory and more come alive in program form.
It can be used for all forms of science, of course.
Several development phases took place also in Manhattan, NYC
(and financial support from consultancy given to UN/UNDP, Oslo
and New York dept., in concurrent phases, is acknowledged).
WHAT IS A STANDARD Y2000-COMPLIANT PC?
The GJ2 edition of Lisa will be for a new type of PC, the GJ2 PC
GJ PC, warpcraft, and Lisa are among the trademarks of Yoga4d von Reusch Gamemakers
THE ENTIRE BASIS WORK IS AVAILABLE
WITH FULL OPEN SOURCE with yoga4d.com/cfdl.txt license.
Donations of money accepted to further these idealistic projects.
Click on compass on top to open up this site. Thank you.
Tiny text on goodness
..And on undogmatic faith
Primary metaphysics
Notes on geo-engineering
Notes on configuring Red Hat 8.0 as also downloadable here with printer/scanners